Etching and cleaning many of today's modern manufactured surfaces such as silicon wafers can present a host of problems to the manufacturer. Many wet etching processes utilize corrosive and dangerous liquids such as ammonium bisulfate and hydrofluoric acid that can present a hazard to the user and the environment.
Less toxic methods, such as mechanical tumbling and sandblasting take longer and can be less precise and are better suited to creating a macro etch – less useful when electronic components require smaller, more complex circuitry. Photo-ablating uses high energy lasers to create micro etches but the process is restricted to highly localized, smaller areas and is difficult to use for treating entire surfaces. Add to that the significant training and personal protective equipment needed and the process quickly becomes too costly and cumbersome to employ at scale.
Likewise, cleaning processes can present a number of challenges to manufacturers and the results can be underwhelming. For example, common solvents can remove some contaminants but not all and they often leave a residue that can compromise performance. Solvents are prone to simply smearing contaminants around the surface instead of completely removing them and once the solvent has evaporated, there are still trace contaminants remaining that result in a dirty surface despite the best efforts made.

And a dirty surface is not the only problem. There is often a molecular level of contamination left over which will inhibit proper adhesion. A surface must be completely clean, including the removal of molecular level contaminants, to create the pristine surface needed for optimal bonding. Even if the best combination of material and adhesive has been chosen to promote optimal bonding, a dirty surface will result in a poor bond and poor product quality.
Unfortunately, many manufacturers cannot determine if their materials are completely clean. Many manufacturing processes are inherently dirty and leave oils or residues on the surface without the manufacturer even being aware of the issue. Compounding the problem are the waste byproducts created in fluid-driven cleaning processes that are environmentally toxic and harmful if not disposed of properly. While there is a growing push to create greener products and cleaner liquid solvents, toxicity remains an issue and the electronics industry needs to speed the evolution of less toxic processes and cleaner technologies.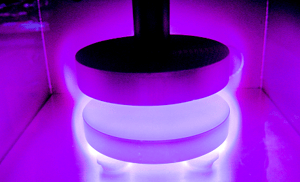 The fallout created by less-than-optimal etching and cleaning processes can be widespread. Poor cleaning or etching methodologies can result in higher product costs caused by additional scrap and added cleaning or etching material expense during production. It also creates considerable waste requiring disposal, which also adds to increased production costs. When product quality suffers because of a poor cleaning or etching process, it can slow down the manufacturing line, creating an additional negative effect on the bottom line. The goal for these cleaning and etching processes should be to make manufacturing more efficient without adding production lines, man hours, or material costs.
Plasma treatment for cleaning and etching enables new manufacturing process and products that would otherwise not be possible, enabling companies to expand their product lines and establish new markets. For example, plasma enhances surface functionalization such as adding carboxyl groups for the medical industry.
Plasma also enables uniform shifts of surface energy over large areas for the coating and bonding industry which requires cleaning and etching first. Semiconductor and wafer production also have a growing need for plasma etching and cleaning applications. Likewise, solar cell manufacturing is ideal for the adoption and increased use of plasma systems due to their ability to accommodate precisely controlled plasma parameters.